How to Create the Best Professional Email Signature
Here are our Rocketseed recommendations for the best email signatures along with some great email signature examples.
If you want your email to make the right professional first impression, build brand awareness, clearly communicate contact details and encourage recipient engagement, then you need the best email signature.
With our guide and best signature examples you'll learn the best email signature basics, what to include, how to format, and how to achieve the most professional look.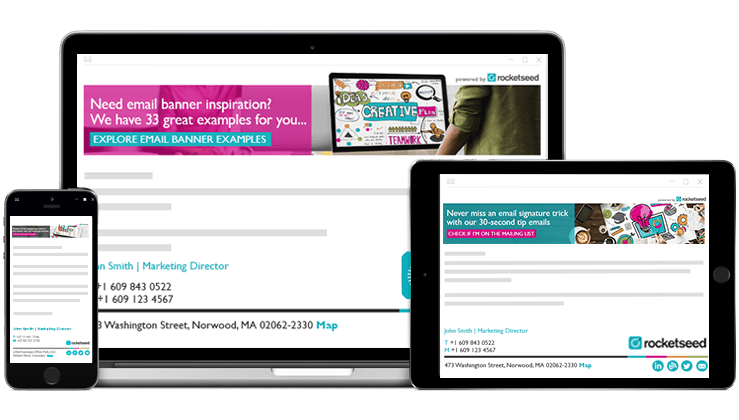 How do you make a
good

email signature?

These are the basic principles shared by the best email signatures.
1. Ensure every signature element is on-brand
The best email signatures are 'email branding'. As well as featuring your brand logo, it's essential that all elements of your email signature design – from fonts and colours to taglines – are on-brand. Follow your corporate branding guidelines when designing email signatures and you'll keep your brand image strong.
2. Keep your email signature simple
When it comes to making a professional signature, less is more. The best email signature layout makes it easy for recipients for to navigate and engage. Limit yourself to just three or four lines of text that include all the most relevant information and images to a maximum of three – logo, headshot and promotional banner.
3. Keep your signature up to date
Information within your signature changes frequently, so make sure everything is up to date. You can do so easily by using email signature software that syncs with your Active Directory. Signature design also needs a regular refresh so stay on top of digital style developments to keep your email signature looking fresh.
4. Make it easy for recipients to engage
The best email signatures include a number of ways for recipients to engage easily. In addition to employee contact information, there are opportunities to include a number of interactive links. These can include social media icons, promotional banners and call-to-action buttons so recipients can click through to your latest content.
See Rocketseed email signatures in action
What to
include

in your email signature
1. Include only important contact details
Keep details to the essentials. Professional emails don't need extensive bios to make an impression. Details to include are name, job title, company, contact information and social icons.
Your email signature logo design offers a great way to boost brand awareness and increase brand recognition, so make sure that this is placed in a prominent position.
3. Include your awards and accreditations
Are you in an industry where people expect to see your business's professional accreditations? Include them in your signature. You can also showcase your business success by including any awards, but make sure they're current or very recent.
4. Feature ratings and reviews
Show some social proof to create trust in your brand. Proudly show your 5-start rating on your signature and link through to full reviews. Also consider featuring a client testimonial quote which you can link through to a full case study.
5. Include social media icons
Your email signature is a great way to drive social engagement so include clickable social icons in your signature. We recommend that you include the three or four social channels that are most important to your business and only those that you actively manage and keep updated with new, relevant content. You can customise social media icons to match the brand style of your signature.
6. Include space and space dividers
A signature isn't a big space but try to keep some space around your details so your design looks clean. If your signature is looking crowded try adding some colour variation in your text or use vertical bar dividers (pipe glyphs) to break up any long lines and direct the eye around your details.
7. Include your email address
This splits opinion. After all, isn't it on your email anyway? The recipient can find it by hovering over the sender's name if needed. Most of the time they'll hit 'reply' and not even think about it. True, but emails are often forwarded on to others that have no access to your details, by including your email address in your signature you become easier to contact.
A great way to personalise your communication is to include a headshot in your email signature. This way recipients can see the face behind the name. Ensure the image is professional and friendly, so don't take a selfie! A professional signature headshot can be used on all your business profiles going forward.
9. Add an email marketing banner
Make every email a (very cost effective) marketing channel by adding a marketing banner, either under your signature or at the top of your email. Use your best imagery, keep copy clear and concise and always have a clickable call-to-action. Promote your products, services, events, latest news or special offers and link through to the relevant landing pages. Keep it relevant by targeting your banner message to your recipient and use tracking links to analyse the performance. Need some banner inspiration? Take a look at our 33 great email signature banner examples.
10. Add an email survey to measure customer satisfaction
How happy are your customers with your service? Find out by adding a simple 1-click survey to your email signature. 1-click signature surveys can achieve over 50% response rates, and even as high as 80% whilst showing your commitment to customer service. Set up instant alerts so you can immediately follow-up positive feedback and rectify any negative feedback.
11. Link your email signature to your blog
If you are keen to showcase yourself as an expert in your field and build brand authority, include a link in your email signature to one of your high-performing blog posts. Choose the most relevant blog content to link to based on the interests of recipient groups such as customers, suppliers, partners etc.
12. Include a clickable call-to-action
You've caught their eye, you've communicated your details, now you need your reader to act – and that needs a clear, compelling, clickable call-to-action (CTA) in your signature. From booking a product demo or downloading an ebook to securing a place at an event or signing up for a newsletter, a strong call-to-action is a must-have. What makes recipients click? Experiment with eye-catching colours and font sizes but be sure to keep it short, simple and compelling.
13. Take care including quotes
Including quotations in your signature can be risky. Whilst your company might have a motto that makes a professional-sounding sign-off, it's worth avoiding 'comic', 'controversial' or 'inspirational' quotations – at best you'll seem corny, at worst offensive – and that could cause you problems and cost you customers. It is your decision to quote or not to quote.
14. Add an email disclaimer to stay legally compliant
Minimise risk and protect your brand by adding an email disclaimer below your signature. An email legal disclaimer can cover everything from compliance and confidentiality to contracts and copyright. Check if disclaimers are compulsory in your region – they are certainly email best practice and we always recommend you take legal advice. Try to keep email disclaimers simple so that there isn't too much 'small print' to distract from your signature.
How to
format

email signatures
Email signature size matters
For design, delivery and display, we recommend best email signature dimensions of  650 pixels wide and between 90 and 150 pixels high. The combined file sizes of images – which should be PNG or GIF format – within the signature should be less than 40kb. For more details see our email signature and banner size recommendations.
Use hierarchy in the design
When looking for the best way to design an email signature, think about how you read something on a page. Using scale, colour and font size, your email signature design hierarchy should draw the reader's attention to the most important details first. People read top to bottom, so use this to your advantage.
Whilst a well-designed email signature shouldn't look 'boxy', lining up your contact details will help get them noticed and give your signature a sense of balance. We recommend that you take alignment cues from the position of your logo, and remember left-hand text alignment is the easiest format to read.
Use colour but control your palette
Colour in a well-designed email signature always catches the eye but be careful with distracting combinations and clashes. Too many colours can make your email signature look childish, so it's best to stick to a couple of key complementary colours from your brand guidelines palette.
If you want your email signature to really come alive, animation is the way to go. Ideal for businesses that pride themselves on creativity and animation, a GIF can be much more ey-catching than a static image.
People remember visuals better than they do text, so adding an image to your email signature is a good idea. So, while you should definitely include images such as your logo and possibly your headshot, you do not want to go overboard with visuals.
Also, make sure your images are embedded. This is easy with Rocketseed and ensures that each image displaygs as desired to recipients, rather than being attachments that display as red corner crosses and require downloading (by which time all your signature's impact and professionalism is ruined!)
You don't have to stick to one font in your email signature design but it's best not to use more than two. Your choice could match your logo font if appropriate and be easy to read. To ensure readability we recommend using a font size of 10pt as a minimum.
Most importantly, when choosing the best email signature font, you need to pick one of the 'web safe fonts' that are supported by all browsers and will always display correctly. These are: Arial; Verdana; Georgia; Tahoma; Courier; Times New Roman; Trebuchet; Palatino; and Lucida. Avoid using childlike or 'fun' fonts (for example, Comic Sans) that will undermine your professionalism.
How to make a
business

email signature

Business email signatures create specific challenges. How do you keep all employee signatures consistent? How do you customise email signatures for different departments or sub-brands?
If you're setting up signatures company-wide then they need to be consistent to build your brand. This is where Rocketseed's tamper-proof security becomes so important, giving you central control of the 'look' of all employee signatures.
Different signatures for different departments
The emailing habits of different departments within a business will determine what information needs to be included in each department's email signature design. Your sales and marketing people are more likely to need social media details than your finance team.
Signatures for brand hierarchy
If your business has constituent companies or a number of sub-brands, this can easily be incorporated into email signature design. Simply feature the sub-brand alongside the master brand. Your business email signature design can reflect your brand hierarchy.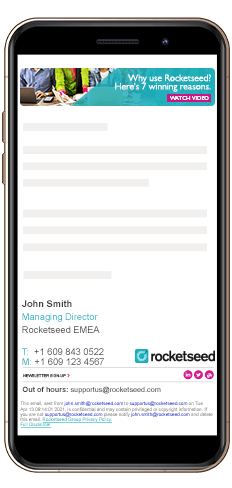 How to make your email signature
mobile friendly
81% of emails are now opened on mobile devices so it's essential that the best email signatures are mobile-friendly and that means 'responsive'. A responsive email signature is one that can be viewed on a mobile phone in the same way that it can be on a desktop computer.
When determining best email signature design and mobile friendliness, the most important element to consider is scale. You need to ensure that text and images are legible on a small smartphone screen.
You also need to make sure that your links are 'tappable' – ie. that they are not too small to be easily tapped on a mobile device. Always ensure that you use email signature software that is mobile-optimised (like Rocketseed is) so that your branded signature design displays perfectly on desktop, laptop, tablet and mobile, as shown below.
How to make your email signature look
professional
To achieve the most professional email signature result we recommend using professional email software or hiring a professional email signature designer.
Use professional email signature software
With professional email signature software it's easy to create and manage the best email signatures for your business. Simply choose and customise an email design template based on the recommendations above, with no HTML experience required. The best email signature software will ensure that your business signatures are compatible with all email clients and will display perfectly across all devices.
If you're responsible for creating your company-wide email signature and are concerned it might not have the on-brand quality expected, why not enlist the services of a professional email signature design and management company? Whether you are managing Office 365 signatures or require a G Suite email signature manager, a professional design and management service can maximise your signatures' impact and engagement.
Ensure the necessary elements for your email signatures are there
Whether you're using an email signature management software, hiring a professional to design your email signature, or not using either, it is important to ensure that the necessary elements for email signatures are there.
We hope this answers some of your questions about what helps to make the best company email signatures. These are recommendations, not rules, so it's worth experimenting to see what works best for you… and we're always here to help.