33 Great Email Signature Banner Examples
Email signature banners transform every business email into an engaging marketing channel
An email banner is a branded marketing message applied to the top of your everyday email. The optimum email banner size is 650px x 90px. The best email banner designs feature eye-catching imagery, compelling headline copy and, most importantly, an interactive call-to-action so recipients can click through to your website, social media and sales platform.
To inspire you, here are 33 great email marketing banner examples, each one designed to drive click-through to your most relevant webpages, marketing content, social media channels, surveys or sales platforms.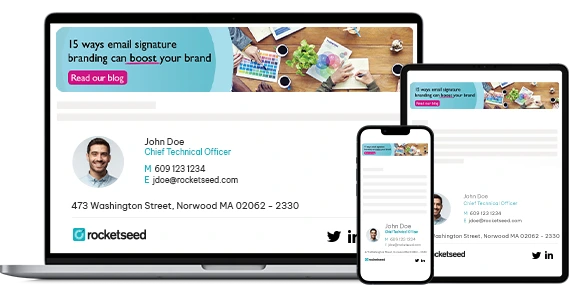 And remember, with Rocketseed's advanced segmentation, targeting and scheduling rules, you can ensure every recipient sees the right banner campaign message at the right time, and track every engagement with our advanced  analytics and reporting.
Email signature banners to build your brand
Show recipients your brand is right for them
1. The Brand Image Builder
Email signature marketing banners give you a great opportunity to bring your brand to life. Use your very best quality imagery to give potential customers the reassurance they need to buy or find out more about your brand.
2. The Brand Positioner
What makes your brand so special? Your product range? Your prices? Your service? Use an email banner to remind your recipients that only you can give them what they value most and why they should choose you over your competitors.
3. The Compliance Confirmer
Need to show that your company meets industry standards? Or maybe promote its eco or social initiatives? Create an email signature banner design to emphasise your accreditations and compliance credentials, with a CTA that takes recipients to your full compliance details for their reassurance.
4. The Sub-brander
Does your business have strong customer-facing sub-brands? With central control you can create different email marketing banners for constituent business, department or product sub-brands whilst maintaining your overall brand integrity.
5. The Client Testimonial
Nothing builds trust like a testimonial. Give recipients the reassurance they need by featuring a customer quote in your email banner design with a call-to-action button that takes them directly to the full testimonial or a 5-star review.
6. The Client Case Study
Want to prove you have the experience that your potential client is looking for? Then convince them with a case study. This is a great example of how an email banner can show a case study key result, with a CTA for recipients to click to see how you achieved it step-by-step.

Email signature banners to promote & inform
Make every email a tactical marketing channel
7. The Social Conversation Starter
An email marketing banner linking to your key social media channels can be a clear and clickable invitation to start a new 'social' conversation – a conversation that can lead to conversion, making email banners a key part of your social media marketing strategy.
8. The Content Promoter
Think of the time and effort you've invested in creating branded content. From ebooks and whitepapers to videos and resource pages, an interactive promotional banner brings your most relevant content to the right audience and maximises engagement.
9. The Blog Booster
You're writing it, but who's reading it? This email banner example shows how you can drive extra traffic to your latest blog post. Entice readers with an intriguing headline and they'll be clicking through to read the full post.
10. The Newsletter Sign-up
With a simple 'sign up now' CTA, you can encourage your recipients to actively 'opt-in' to your newsletter mailing list, grow your database in accordance with data protection regulations and increase your chances of future sales via your newsletters.
11. The 'How to' Explainer
This is a great example of an email banner giving prospects the confidence to buy and showing customers how to get the most from your products by directing them to 'explainer' content, from tips and tricks to explainer videos.
12. The Product Launcher
Maximise the reach of your new product launch by featuring it on every email your business sends. A product launch email header banner can feature a variety of CTA's – offering a free trial, an introductory discount, an invitation to the official launch or simply encourage recipients to 'pre-order now'.
13. The Big News Announcer
Did your company win big at the industry awards? Hook your recipients with the email banner headline and make it easy for them to click through to the full news article. Show them that good news for you is also good news for them!
14. The Promotion Pusher
'Free trial', 'Black Friday Sale', '20% off your first order'. With Rocketseed's advanced targeting rules, it's easy to ensure that the most relevant promotional banner reaches the right recipient, maximising the chance of conversion.
15. The Seasonal Showcaser
Want to drive business all year round? Use email banner campaigns to support your promotions calendar. Create your seasonal promotional banners, schedule their 'live' dates, then sit back and relax, knowing your campaign is current, fresh and relevant.
16. The Event Booker
The best email banners make it easy for recipients to take action. This is a great example of an email banner to promote your events – from conferences and concerts to product launches and parties. With a clear 'Book now' or 'RSVP' CTA button they can book their place, or click-through to a floor plan if you're selling them space.
17. The Essentials Informer
How long are you closing for over Christmas? What's your returns policy? Keep your customers informed and save your staff time by using your email signature banners to feature essential information and direct recipients to your FAQ's.
18. The Segmenter/Retargeter
Find out what most interests your recipients (and thereby helps segment them) by featuring multiple calls-to-action on the same email banner (Rocketseed's image-mapping makes this easy). By 'tagging' each option, Rocketseed lets you then automatically re-target these recipients with promotional banners based on their preferences, thereby maximising the chance of conversion.
19. The A/B Tester
Strictly speaking, this is 2 email banners – each slightly different (perhaps with a different colour CTA button) run in tandem to see which achieves the most engagement. This way, you'll gain the insights you need to refine future campaigns and maximise engagement.
20. The Crisis Manager
Crisis management is a key to any successful digital strategy. Use high-impact email header banners to inform, reassure and engage all your stakeholders. Banners' rapid reaction speed, immediate impact and urgent engagement make them an ideal crisis management tool.
Email signature banners to drive sales & maximise customer value
Send recipients to your sales platform, upsell & cross-sell
21. The Quote Requester
Make it easy to start the sales process. However sophisticated the product or complicated the customer's requirements, an eye-catching email banner image provides an impactful way to encourage them to 'Request a quote', clicking through to a quote form and a notification to your sales team.
22. The Direct Seller
Send recipients straight to your sales platform… but before you do, make sure your online buying experience is at least as easy as any competitor's. Like this email banner example, simply add a clear, clickable 'Buy now' call-to-action and you're in business.
23. The Banner Exclusive Deal
Give recipients a strong reason to click with an exclusive discount, only available by clicking through on your email banners to your sales platform. Reinforce this on your website with clear price comparison to reassure customers that they really are getting the best deal.
24. The Upseller
Use banners on order confirmation emails to promote potential upsell opportunities, enticing your customers with affordable upgrades and additional services
25. The Cross-seller
Does your business offer a wide range of products or services? Then maximise customer value by promoting your most natural 'cross sell' opportunities, showing your customer how you can offer them more than they realised!
Email signature banners to strengthen relationships & reputation
Run satisfaction surveys and ramp up reviews
26. The Satisfaction Survey
'How are we doing?' Find out with a one-click service survey email banner. Recipients can easily click on a rating without having to fill in a lengthy survey form and, with Rocketseed's real-time click alerts, you can follow up positive responses with a review request or immediately remedy any negative ratings.
27. The Review Request
Want more customer reviews? Why not just ask? Use a clear call-to-action – and add a value-adding incentive – to drive recipients to your own website's review page or to third-party review sites to boost both your brand's online reputation and search ranking performance.
28. The Loyalty Generator
It's far more cost-effective to retain existing clients than to acquire new ones, so use an email signature banner to invite customers to sign-up to your loyalty programme. Highlight the rewards, link through to your sign-up page and use future banners to remind them of the points they can redeem.
Email signature banners to engage your staff
Inform and motivate with internal email banners
29. The Internal News Announcer
Attention team! Ensure your employees never miss an important announcement. Inform and motivate your staff with an email banner message from the CEO and link through to the details, maybe even record a video message!
30. The Company Culture Curator
Want to bring new employees up to speed with your company culture quickly and cost-effectively? Or highlight new policies and practices to all employees? Then simply add engaging banners to internal emails highlighting 'how things are done around here' and linking to the new policy documents or company handbook.
31. The Trainer
Promote important team training sessions and internal events to ensure everyone puts the date in their diary and nobody misses out. Or link the email banner straight to the latest training material and track every employee interaction.
32. The Recruiter
Apply now! Use internal email banners to let your staff know about vacancies they can either apply for themselves or spread the word to interested applicants. To make it even easier for them, link the CTA button straight to the application form.
33. The Staff Survey
How happy are your employees? Get a regular snapshot of staff satisfaction by running interactive one-click survey email banners. Hopefully it's all positive but any negative responses can trigger an alert and give you a chance to follow-up before they quit!
Can you think of any more? What are the best email banners you've seen? Which promotional email banners have achieved the best results for you? Let us know.
Feeling inspired to add eye-catching, engaging banner campaigns to your business email? By using our Office 365 email signature manager or G Suite email signature manager, with Rocketseed it's easy to create great email banners yourself – there's no HTML required – or you can simply discuss your email signature marketing requirements with us and our expert designers will do it all for you.
Want to see email signature marketing banners in action?
Simply book a personalised Rocketseed demo.