Manage Business
Email Signatures
At Scale
Create, update and control your branded corporate email signatures and one-to-one email marketing campaigns.
Simple to deploy | Increase engagement | Measure success | 24/7 support
Simple to deploy
Measure success
Increase engagement
24/7 support
Used and trusted by businesses across the globe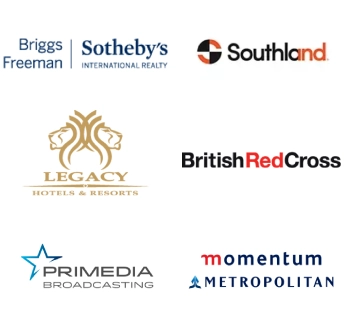 The average employee sends 1,200 emails a
month – a massive marketing opportunity
you can't afford to miss.
How will your business benefit from Rocketseed?
Brand emails consistently company-wide
Centrally create, update, and control all employee signatures company-wide so everyone is always on-brand on all devices.
Open up endless
engagement opportunities
Run targeted and segmented interactive email banner marketing campaigns to drive customers to your products or services.
Measure your email
marketing success
Track and analyze every recipient interaction via our reporting dashboard, receive real-time click alerts and monthly reports.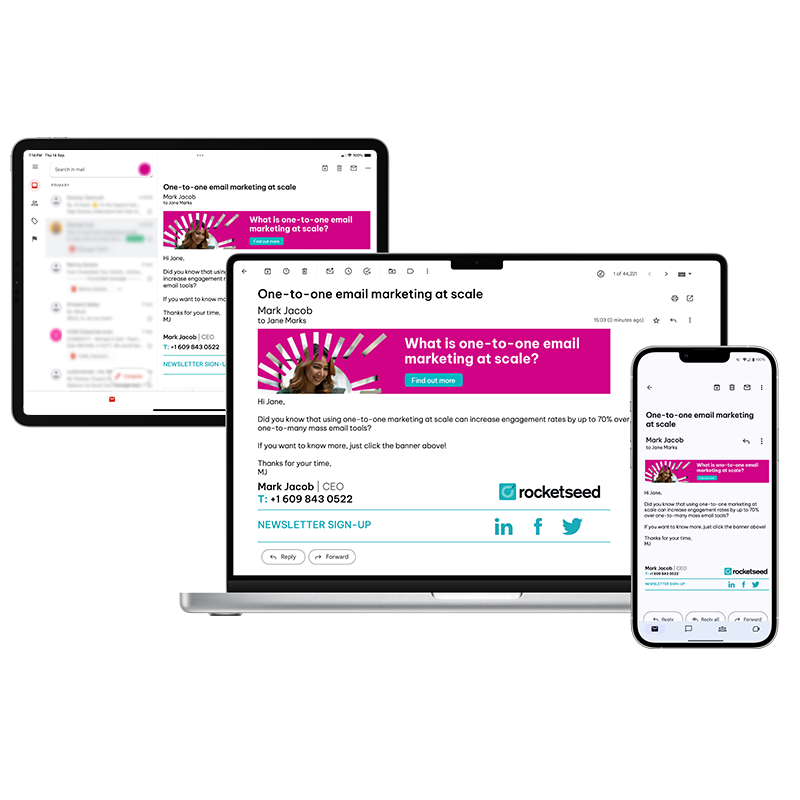 Save your IT team time
Simple to deploy on a dedicated or shared server, stress-free to manage, secure, and compatible with all email clients and with Directory sync.
Boost internal staff
engagement
Inform, motivate, onboard, and train your staff with internal one-to-one communication, aid retention, and strengthen company culture.
Global one-to-one,
24-hour support
Get managed set-up, full interface training, a dedicated account manager, and 24/7 emergency IT support.
Boost your engagement rates by up
to 70% with perfectly branded email.
Centrally Control Company
Email Signatures
Consistently brand professional email signatures company-wide with our email branding software
Centrally create, update, and manage all employee email signatures.
Easily adapt and assign different email signatures to different departments.
Populate and update signatures automatically through Directory synchronization.
100% tamper-proof solution guarantees consistent email branding company-wide.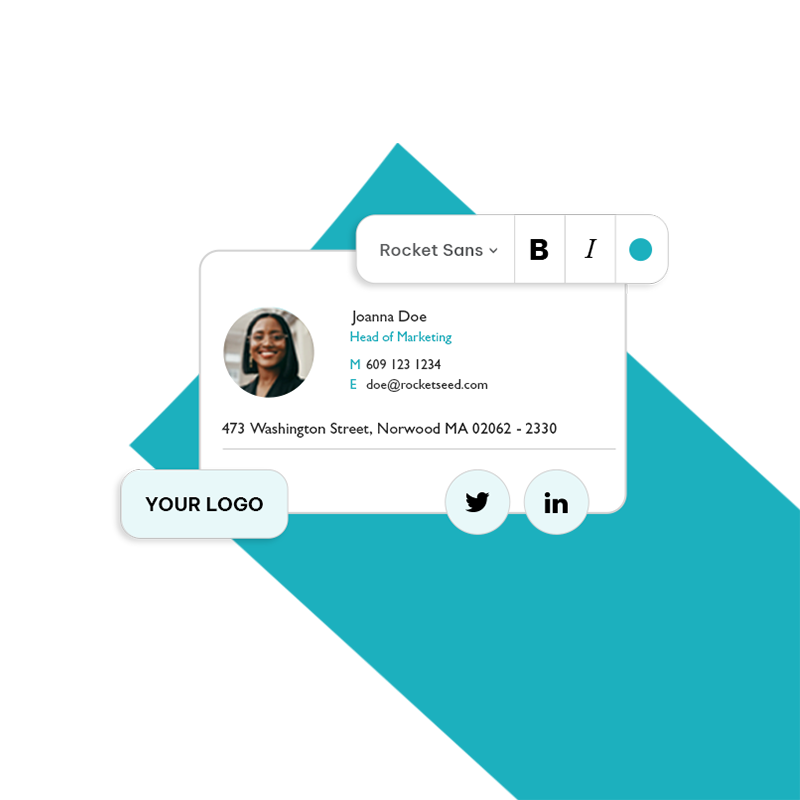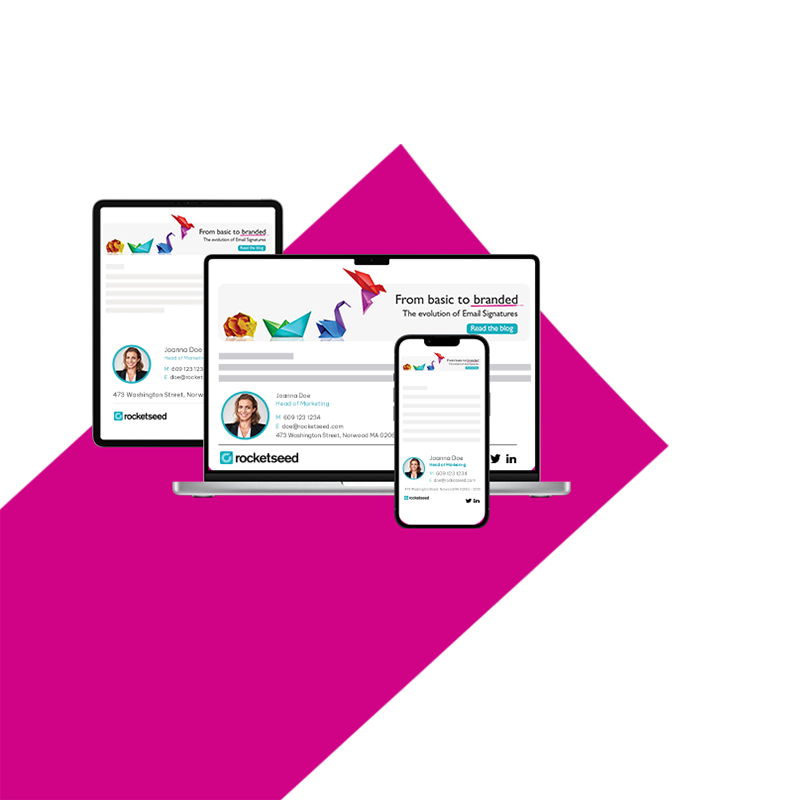 Make Every Email
a Marketing Opportunity
Make one-to-one email marketing your most engaging channel
Drive click-throughs and conversions by targeting individual recipients and increase traffic to your website, social media, and sales platforms. 

Add dynamic marketing banners with clear, clickable calls-to-action to create the right interactions throughout the customer journey. 

Ensure the right message reaches the right recipient at the right time through precise segmenting, targeting, and scheduling rules. 

Enhance interaction with multiple links and animations within banners.
Insightful & Actionable
Marketing Data
Simple to use, easy to action
Analytics and reporting dashboard gives you reliable, real-time email data to help you hit your goals.

Alerts allow you to see clicks and conversions in real-time.

Identify top-performing email senders and specific receiver domains to optimize your targeted communications.

Seamlessly integrate with Google Analytics to track on-site conversion.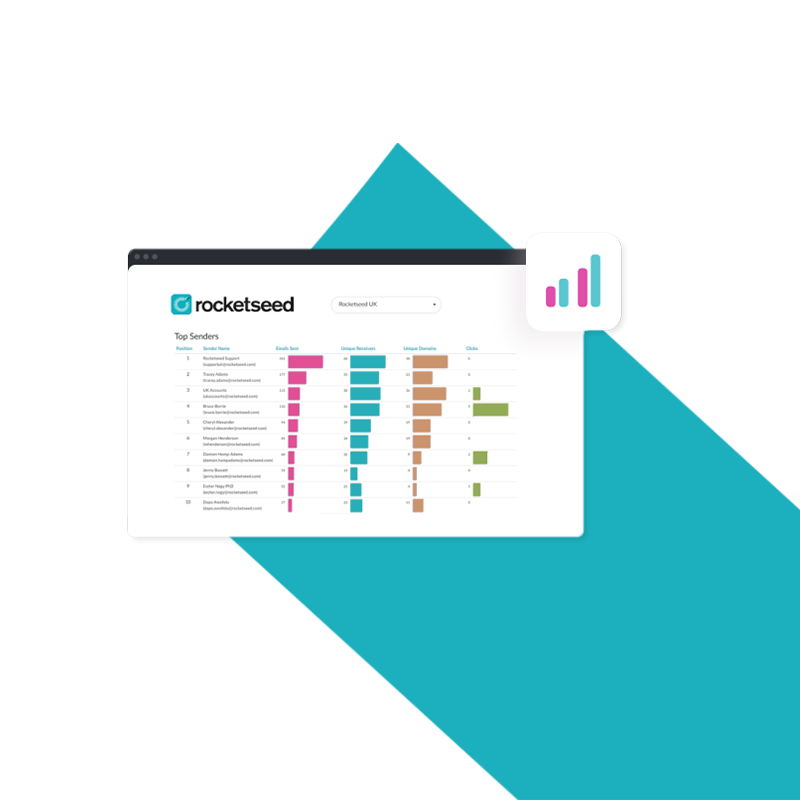 From 50 to 50,000 employees, email
brand consistency guaranteed.
What Our Clients Are Saying
Email branding has proved
to be an invaluable
marketing channel – the
engagement rates speak
for themselves"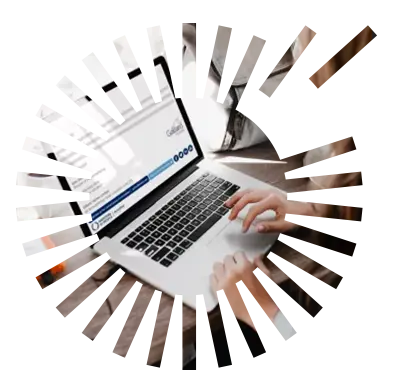 Save IT departments hundreds of support
and implementation hours.
Compatible with all Email Clients
Rocketseed email signature manager software is optimized for Microsoft 365, Google Workspace, Exchange and more,
giving you complete email compatibility.

Rocketseed's Microsoft 365 software for Outlook works within the same Azure Cloud environment as your Office 365.

Our Google Workspace email signature software for Gmail meets the highest industry security and compliance standards .
Displays on Every Device
Because of our proprietary HTML- based technology, every signature and banner will display perfectly on any device; phone, tablet, or laptop.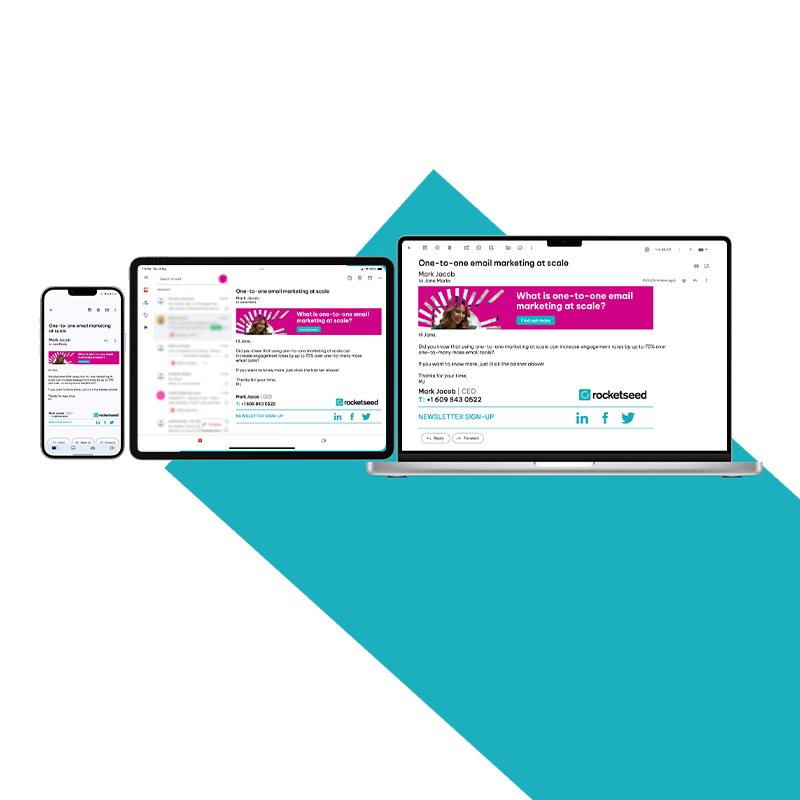 Business Integration
Track customer journeys, measure conversions, and attribute revenue to your one-to-one email campaigns.
Rocketseed seamlessly integrates with:


With a 99% open rate your
marketing message is always seen.

Ready to see how
Rocketseed can help
your business?
Let's talk.