…And why should we all incorporate it into our marketing mix?
The best things in life are one-to-one… picnics in the woods, the last dance of the night, the final battling throws of Monopoly, and email marketing!
You'll find many companies wanting you to buy into a CRM or marketing system where they keep all your data and allow you to send out 1,000s of emails in one go with a personalized 'name' field. That's email marketing, according to prevailing wisdom. 
Only it isn't. 
Email marketing started with one person sending an email to another person offering their services. It's become more complex over time. However, the aim of email marketing is still the same; only the scale has changed. With this change in scale came a whitewash of the concept of personal and almost obliviousness to the fact that, actually, your employees' everyday standard emails are way more valuable real estate for a marketing message than something sent via a CRM. 
95% of businesses still use email as their prime mode of communication. One-to-one email marketing aims to provide businesses with an underserved but critical marketing tool that everyone seems to have overlooked in the furor of trying 'everything new.' The simple fact is getting the basics right is key. A brand is a company's biggest asset, email is the largest communications channel most organizations have, and their own people are their biggest advocates. Yet most companies spend millions branding websites and social, while marketing to indistinct 'audience segments' on impersonal one-to-many channels, yet neglect direct, personal, and trusted email.
1,200 emails are sent by each individual every month. The possibility of making your brand shine and running trackable marketing campaigns directly in all of your employees' emails should be the first thing any company does to achieve consistent, coherent brand representation.
As companies transition from generic marketing tactics to more personalized approaches, the importance of creating impactful customer experiences has never been more pronounced. Enter the game-changer that's always been there: one-to-one email marketing at scale. But what exactly is it, and how can it revolutionize your business?
What is One-to-One Email Marketing at Scale?
One-to-one email marketing at scale gives you the unrivaled opportunity to bring together your greatest asset- your brand – with your strongest brand advocates – your staff – to reach your target audience through your busiest communication channel – your everyday business email.
To fully grasp the concept, let's break it down into its three core components:
"One-to-One" – Personal Email Marketing from a Trusted Source
In today's world, face-to-face interaction is increasingly uncommon. This is due to several factors, including the dominance of the internet and social media, as well as the increasing popularity of remote work. When it comes to marketing, it's even more rare. Almost every platform you use for marketing is 'one-to-many,' meaning you get little say over who sees your ads, and as such, needing to apply to as broad an audience as possible in the hope they resonate. As a result, one-on-one communication has become more important than ever.One-to-one communication allows businesses to connect with their customers and prospects personally. It allows businesses to build relationships with their customers and to understand their needs and wants. Additionally, one-to-one communication can help businesses to build trust with their customers.
Employees are a business's most valuable asset regarding one-to-one communication. Employees can send personal, private, and trusted emails directly to customers and prospects. This allows businesses to engage with their customers in a meaningful way. There is no other way to be as personal as this.
"Email Marketing" – A Different Beast from Bulkmail, with 99% Open Rate
While the term "email marketing" often conjures images of mass emails and newsletters, one-to-one email marketing is a different beast altogether. One-to-one email marketing is a more personalized form of email marketing that targets individual recipients with tailored messages. With engagement rates up to 70% higher than mass email campaigns, this approach sees open rates skyrocket to 99%, all without relying on cumbersome CRM bulk send-outs. This approach is more effective than mass email campaigns because it is more relevant to the recipient and is less likely to be seen as spam. One-to-one email marketing can be used to nurture leads, promote products or services, or simply stay in touch with customers. It can be a very effective way to increase engagement and sales. Needless to say, all the interesting functions like targeting, segmentation, A/B testing, and tracking are all still available. 
"At Scale" – Centralized Control Meets the Challenge of Company Size
Implementing this personalized strategy across a company, whether you have 50 or 50,000 employees, is no small feat. The prospect of keeping every employee email on-brand and featuring the correct marketing campaign messaging certainly sounds like a challenge. The solution, however, is simple. Rocketseed centralizes control of your company's one-to-one email marketing, saving your IT team hundreds of hours and ensuring consistent branding and coordinated campaigns company-wide. Rocketseed has proven success across various international corporations and global brands, and it can scale to meet the needs of any business.
The Opportunity – fulfilling your customer's needs
One-to-one email marketing at scale provides a plethora of opportunities. The primary objectives and benefits include:
Connect directly with customers: Email is the best tool for this because it's direct and personal. We're only advocating that companies use a channel that is already the best for this. 
Increase brand awareness: Brand visibility consistently in every interaction across the board. With your brand promise prominent in every business email, every one sent tells a part of your brand story.
Generate leads: Run direct campaigns and gauge interest immediately. No complicated attribution is needed. Run campaigns that resonate and drive direct response, which can help make the whole sales cycle more efficient, often leading to a shorter time for a conversion. 
Drive direct sales. Get purchase-ready recipients clicking through to your sales platform or special promotions. You can remove several barriers to direct purchase.
Increase customer loyalty: Segmented customer-specific messaging that focuses on customer needs without the sales messaging usually associated with one-to-all messaging. Reach customers with messaging that drives repeat business.
Improve customer satisfaction: Direct feedback and easy access to support through the easiest channel possible, no more frantic web searching for contact information.
Increase staff engagement: Motivate, train, and retain your staff via email 'internal marketing.' You can link internal emails directly to engagement surveys, intranets, or company updates. 
Key components of one-to-one email marketing at scale 
One-to-one email marketing at scale combines several features, all built to represent your brand best and to drive maximum engagement. 
Branded Email Signatures: Centrally create and manage professional email signatures to ensure consistent email branding company-wide and make every employee a brand ambassador.
Email Banner Marketing Campaigns: Create and run targeted, interactive banner campaigns on every email to increase engagement and make every employee an active marketer.
Reporting and Analytics: Track every recipient interaction and measure campaign success, seeing who clicks and who converts, and respond immediately to real-time alerts.
Beyond Email Signatures
Although email signatures are essential for branding, one-to-one email marketing at scale offers so much more. It turns every employee into an active marketer and brand ambassador, applicable across various departments and business sizes.
With one-to-one email marketing campaigns, you can target your messages based on the recipient's interests, demographics, and even past purchases. This allows you to deliver more relevant and engaging content, which leads to higher click-through rates and conversions.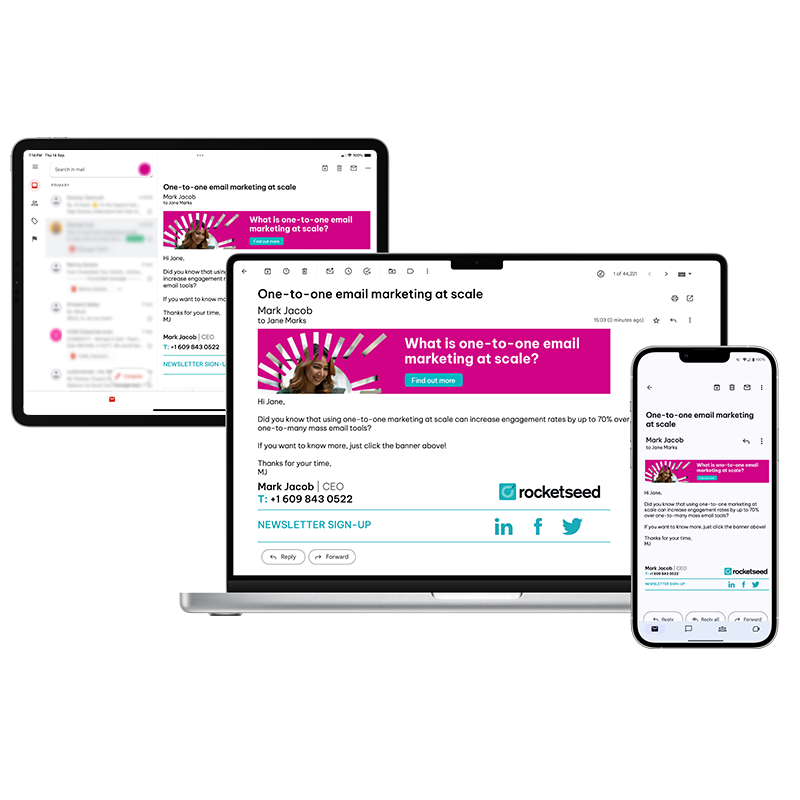 Who Can Benefit?
No matter what your company's size or geographic location, one-to-one email marketing at scale is universally applicable. It's especially beneficial in sectors where email communication is prevalent, such as finance, law, healthcare, hospitality, and real estate. Trusted by many large corporations, Rocketseed's effectiveness is showcased through detailed client case studies and customer reviews.
Technical Requirements and Cost-Effectiveness
Rocketseed is compatible with all major email clients, including Office 365, Google Workspace, and Exchange. Regarding cost-effectiveness, centralized control, and high engagement rates make one-to-one email marketing a worthy investment.
Looking Forward
As we move towards more personalized and authentic forms of customer engagement, one-to-one email marketing at scale stands as a beacon of innovation. By embracing this strategy, businesses can look forward to sustained and meaningful success. 
Get Started
Ready to transform your everyday business email into a powerful marketing tool? Contact us to book a one-to-one Rocketseed demo and discover how your business can unleash the untapped potential of one-to-one email marketing.
So, why wait? Dive in and experience the revolution that is one-to-one email marketing at scale.