How To Set Up An Android Email Signature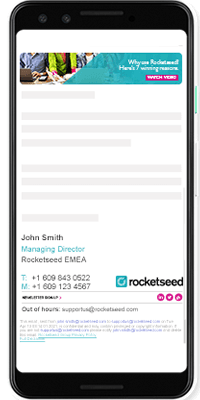 How to change an Android phone email signature
There are two ways to add a signature to email on Android phones. Android phones have a generic email app that can be used for most email clients. Plus, there is a dedicated app for Gmail users – the choice is up to you.
Setting up an Android email signature is relatively straightforward, and below we show you how to personalise your email signature.
How to add signature in Android email
Firstly, open your email app or Gmail app to get started.
Select Settings from the main menu.
Choose the email address you want to add or change.
Scroll to General and tap Mobile signature.
Edit the text in this field and click OK.
This is the simple way of changing your email signature on your Android phone. However, if you want to add an Android email HTML signature, it is slightly more complicated, but extremely valuable.
Gmail app users will find the signature area only supports plain text. If you create an HTML signature on the mobile Gmail app, it will only send the code, and this is a common issue with the app.
There is a way around this, by using the Android native email app. Take a look at how to create an HMTL email signature on an Android smartphone:
Design an email signature in HTML first. User friendly tools such as Adobe Dreamweaver can help you do so.
Copy and paste your design into a new email via a web-based email client, for example, Gmail or Outlook.
Send the email containing the code to the email address/account you have on your Android phone.
Open the email on your smartphone and press and hold your finger on the image, and press copy at the top of the screen.
Open your native email app on your phone.
Go to the menu button and choose Settings.
Be sure the Use Signature setting is ticked, and then select Signature.
Remove any previous signatures in this box.
Press and hold the screen, and you should see a pop-up box.
Paste the HTML signature in this section and Save.
Managing business emails for Android phones
The above steps are a manual process, and for businesses, this can cause issues with managing employee signatures. Getting everyone to copy and paste their signature is hardly ideal for large or small organisations, so think about using an email signature management solution to do the hard work for you.
This resource will provide a professional and easy way to manage HTML signatures on Android phones to maintain your brand consistency.
How to remove email signature from Android
It's easy to remove an email signature from your Android email. Take a look at the steps below:
Open your email app or Gmail app.
Select the main menu and click Settings.
Choose the email address you want to add or change.
Select the Signature or Mobile Signature section below General.
Delete the text or HTML signature in this field and click OK.
(Some Android devices such as Samsung smartphones have their own signature set up, so the tips above may vary slightly on these models.)
How to create an HTML signature for Android
Before setting up a signature in your email client, you'll need to design it first.
Outlook, Yahoo Mail, and Gmail all offer the option of customising an email signature in the desktop apps. You can use formatted text, images, and links within your signature. However, they don't provide the option to edit HTML within the signature field.
If you are familiar with HTML, then there are several editors where you can create your design. If you don't know HTML at all, fear not! There are plenty of email signature generators online to help you make the perfect design. If you don't have an eye for design, however, don't attempt this yourself. Of course, there are several key aspects to consider when creating an email signature if you do want to give it a go. Take a look at these tips on the dos and don'ts on what to include in this space.
Customising your email signature on Android smartphones is an ideal way to make your business emails look professional and on-brand. It's simple and straightforward to complete and is available on most Android smartphone models. Plus, by using an email signature management solution to do the hard work for you, you'll have better control over the design and organisation of your employee emails.
Get a new business email signature today.